Respite Care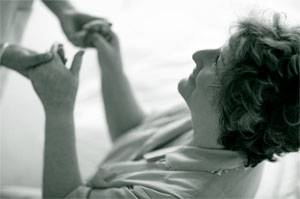 Being a caregiver is a responsibility that can be rewarding, but also can consume a lot of physical, mental and emotional energy. Your loved one needs your constant care and support, which may leave little time for you to take care of yourself. Evergreen In-Home Care Services can help. Evergreen's Respite Care Services provide family caregivers with an opportunity to take a break from their caregiver responsibilities, leaving their family member or loved one in the care of an Evergreen staff member. Respite Care Services enable individuals to comfortably remain in their own environment while providing caregivers with a much needed period of rest or relief from a few hours a day to a much needed vacation. Respite breaks can help to relieve stress, restore energy and promote balance in your life. It also enables you to share the responsibility for caregiving while getting the needed support for yourself and your loved one.
Evergreen's Respite Care Services include, but are not limited to:
Assistance with activities of daily living

Providing personal care (such as bathing, personal hygiene, grooming, skin care, etc.)

Dressing

Meal preparation

Light housekeeping

Laundry

Companionship

Assistance with ambulation
For information about Evergreen's Respite Care Services, contact us at 541-389-0006.